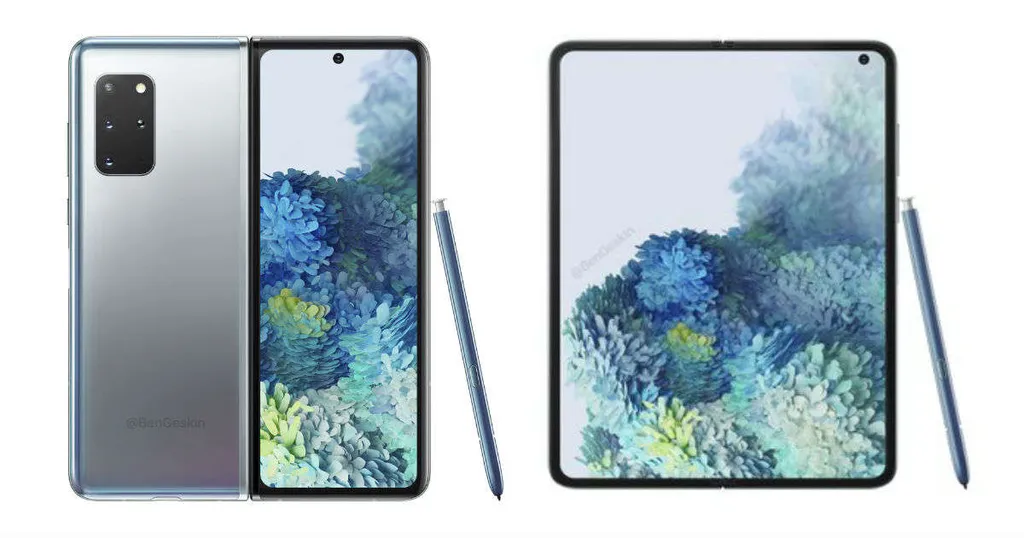 Renders of the Galaxy Fold 2 (via Benjamin Geskin on Twitter)
As Samsung regularly does, they always release their flagship devices in the beginning of the year in February and towards the end of summer in August. With August a few months away, we could expect Samsung to release the Galaxy Note alongside maybe a new folding phone.
Galaxy Fold 2 possible specs
We expect the Fold 2 to have a 120 Hz refresh rate in their display, Snapdragon 865 or 865+, 256 or 512 GB of storage with the capacity to expand to 1 TB of storage. For battery, we can expect it to surpass it's predecessor's 4380 mAh battery with a possible 4500 or 5000 mAh battery, and it will most likely include it's PowerShare with fast charging at 25 or 30 W. And like most flagships that have come out recently, it will most likely support 5G.
Based on the leaks, we can see that one thing that will be improved will be cover display. It will take up a much larger screen-to-body ratio compared to the last Galaxy Fold, another thing that will be expected is an improved hinge design in order to not repeat the issue with the last Galaxy Fold.
For the camera, we can expect the same setup from the S20+, which has the 12 MP wide-angle, 64 MP telephoto, and 12 MP ultra-wide lens. For both front facing cameras, we are expecting the S20+'s 10 MP lens. For the inner camera, we can expect something similar to the 10 MP lens or something even better.
Release Date and Price?
Like previously mentioned, this phone will either be coming out in February or in August. Although it would be better if it came out in February of 2021, I believe it will come out in August for one reason, the possibility of an S Pen in the new Fold. I believe that Samsung would be better off planning a Flip Z 2 in February rather than the Fold 2. So there could be a chance of 2 folding phones from Samsung this year. For the price, we are expecting this device to cost somewhere nearing the $1500 range.